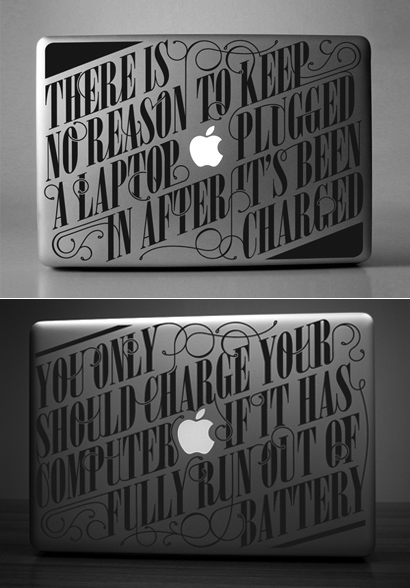 Romain Ferrer, director de arte del estudio londinense Hu2 Design, nos escribe para mostrarnos su ├║ltima creaci├│n.
Se trata de unas pegatinas con un diseño tipográfico para pegar en los portátiles de Apple, en las que se muestran mensajes para concienciarnos sobre el uso excesivo de la electricidad cuando dejamos nuestros equipos permanentemente encendidos u olvidamos apagarlos cuando no los vamos a usar.
Parece que los chicos de Hu2 se toman muy en serio el tema y han decidido producir estas pegatinas en un material libre de PVC. Bravo!
Romain Ferrer, Art Director of London-based design studio Hu2 Design, has written to us to show us their latest creation.
ItÔÇÖs about a stickers with a typographical design to be stuck on Apple laptops that show us messages about the over-use of electricity, when we leave them plugged in forever or forget to switch them off when we arenÔÇÖt going to use them.
The Hu2 Design guys take the sustainability very seriously, that's why they have recently decided to produce these stickers with a PVC free vinyl equivalent that has a much lower impact on the environment. Bravo!